About Sava Beach Villas
Shush! Don't tell anyone, but just over the bridge from busy Phuket island is a 10-kilometre-long beach of heavenly white sand. The pristine, near-deserted Natai Beach faces the shimmering waters of the Andaman Sea and is backed by a tranquil rural landscape where buffalo roam and farmers tend their land. It's in this splendid tropical Thai setting that the seven deluxe Sava Beach Villas bring holiday dreams to life, and where weddings and events unfold in magical style.
Sava's five largest villas – seven-bedroomed Tievoli and six-bedroomed Amarelo, Cielo, Essenza and Malee Sai – lie on the beachfront set in lush landscaped gardens. Villas Aqua and Roxo – each with four bedrooms – are situated just behind, offering sea views from three storeys of bright contemporary living space.
These designer villas embrace their tropical seaside setting with glass-encased, open-plan living and dining areas that lead out to sun terraces and 25- or 18-metre infinity pools. Though the villas share the same stunning architectural features, each has a unique character that reflects the style and passions of its owner.
Individual teams of professionally trained staff take care of each villa and its guests. These teams include a villa manager, villa attendants and a skilled Thai chef, all offering attentive personalised service.
Though it's only a 30-minute drive from Phuket airport, Natai Beach has somehow remained off the tourist track and along its endless sands are just a small sprinkling of visitors and a few upscale resorts. The area's natural wonders, including Phang Nga Bay, jungle-clad parks and waterfalls, invite exploration, while some surprisingly fine dining can be found just minutes away at the Aleenta and Iniala resorts.  Airport transfers and private car hire (with driver) can be arranged at the time of your reservation, giving you freedom to explore this beautiful part of Thailand.
If your holiday dream is to get away from it all, relax with family and friends next to a beautiful beach, be looked after by caring staff, discover the delights of Thai cuisine, or even host a magical celebration, Sava Beach Villas is the place for you.
Floorplan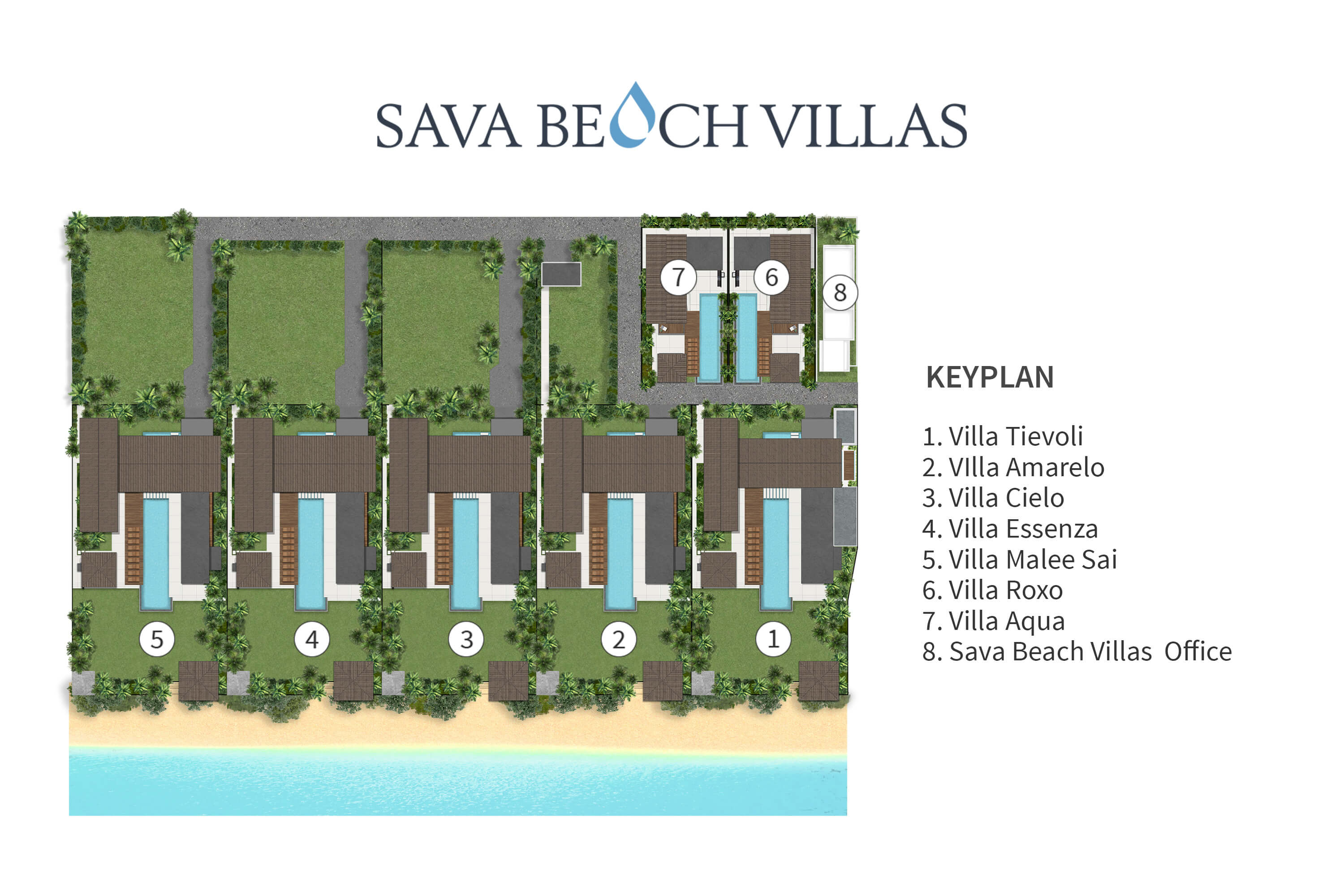 Download in high resolution